Welcome to the Foundation Stage

Mrs Gunn – Daisy Class Teacher
Miss Draycott – Poppy Class Teacher
Mrs McGrath - Bluebell Class Teacher
Miss Hydes – FS Teaching Assistant
Mr. Barber – FS Teaching Assistant
Welcome to Spring 2 at John Clifford from all the Foundation Stage Team. We are excited to jump into teaching and learning with our new topic,
'Minibeasts'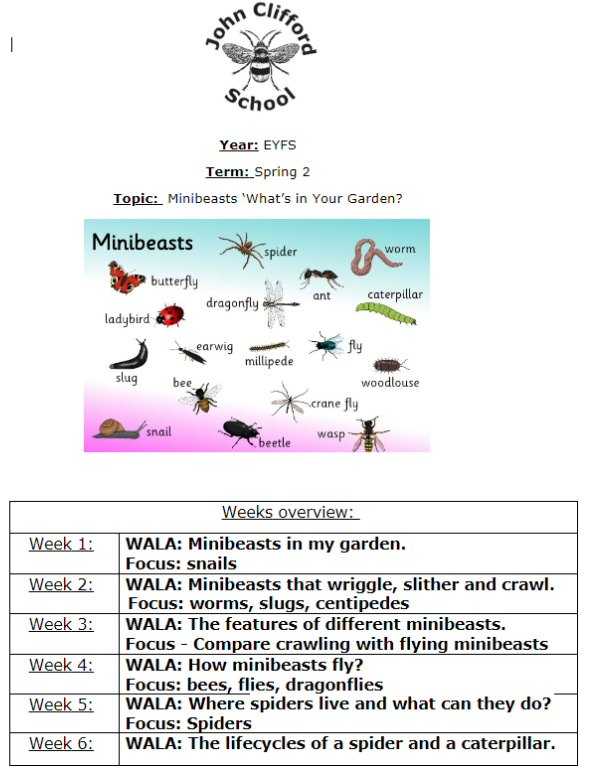 This half term the children will learn about minibeasts they may find in the garden or park, as well as minibeasts you may find in other countries.
Our focus texts will be: Matisse's Magical Trail, What the Ladybird Heard and The Very Busy Spider.

Over the half term, we will also be learning:
PSED-

To continue to develop friendships with each other, share their stories about their experiences, talk about what keeps them healthy and find solutions to conflicts, as they play and take turns in games. Develop independence as they change for PE (F2) and put on their coats and shoes (F1 & F2)

CLL - Group discussions – expressing our point of view, using talk in our play to organise ourselves, connect our ideas and actions using longer sentences. Learning new vocabulary related to our topic, naming minibeasts, their body parts, how they move and their habitats.
PD - Gross motor skills focus –Think about safety as they work as a team to move large items in their play outside. Remember a sequence of movements related to music and rhythm. Develop overall body strength, co-ordination, balance and agility and combine different movements with ease. Songs and dances related to minibeasts, PE with Mr Tilling and Outdoor Learning activities with Mrs. Mitchell. Fine motor skills – using scissors, playdough utensils, glue, cutlery, paint brushes and writing utensils etc.
LITERACY - Non- fiction writing linked to our topic, 'Minibeasts'; fiction writing linked to focus texts. Read some letter groups that each represent one sound and say sounds for them. Read simple phrases and sentences. Spell words by identifying the sounds and then write the sounds with the letters. F1 – Clap syllables in a word and name the different parts of a book e.g., front cover, back cover
MATHS- Subitise, compare numbers, count beyond 10, Understand 'one more than/one less than' relationship between consecutive numbers, recall number bonds from 0-5, identify 2D and 3D shapes and talk about their properties.

F1 - Select shapes appropriately e.g., flat surfaces for building, a triangular prism for a roof etc. Talk about and identify the patterns around them e.g., stripes on clothes, count a group of objects up to 10 and recognise some numerals to 5 and subitise to 3. Compare objects by length, height and weight.

UNDERSTANDING THE WORLD- exploring our environment and compare characters and settings from stories. Learn about festivals celebrated by other cultures – Ramadan and Easter. Know that there are different countries in the world and talk about the differences they have experienced or seen in photos. Understand the key features of the lifecycle of a minibeast. Describe what they see, hear and feel whilst outside in the playground and Outdoor Learning Sessions. Look at changes through the seasons and begin to understand the effect of changing seasons on the natural world around them – moving from Winter to Spring and compare similarities and differences. Science week: make connections between our lunch box and where our food comes from, what our body can do and how bees fly, linking it to aircraft

RE- Easter and Ramadan

EXPRESSIVE ART DESIGN - designing and creating using a variety of media e.g.: collage, paint, chalk. Using different textures -collage/paint/pastels. Learning new skills and techniques eg. Printing with objects, creating patterns (Spirals, zig zags etc), making 3D models using paper, twisting paper to create spirals and joining with glue and tape. Small world construction, junk modelling. Focus artist - Matisse
BEING IMAGINATIVE- retelling focus stories using role play, songs and actions – remembering a sequence of actions and adding their own actions to a dance
MUSIC- Playing instruments with increasing control to express their feeling and ideas. Respond to what they have heard, expressing their thoughts and feelings. Regular singing of nursery rhymes. Learn a range of songs to perform to families etc.
We will continue to read with your child each week, individually or as a group and we ask you to share your child's reading book with them as well other books from home. Please find the best time for you and your child to do this, making it enjoyable for all!  Every little bit of reading really does help your child on their learning journey.
PE
In the Spring term, PE takes place on Monday and Wednesday afternoons.
Please could all children bring their PE kits to school each Monday and Wednesday. PE kits consist of PLAIN black shorts or jogging bottoms, PLAIN white t-shirt, and trainers. Please NAME ALL PE CLOTHES. Please see the timetable for this half term below:

Outdoor Learning with Mrs Mitchell
Each class will have the opportunity to take part in Outdoor learning sessions with Mrs Mitchell on Monday mornings. Poppy Class and Daisy Class will take turns and will participate on alternate Mondays. Please see the table below.


Homework in Foundation
Each week, we ask that all children read with somebody at home at least three times a week. This could be any adult or an older sibling or friend. Every little bit of reading really does help children on the learning journey.
Nursery (Bluebells Class) Reading
Please bring your child's book bag to school every Friday so that they can change their book. Read this story book several times with your child – Talk about the cover, ask them to tell you what is happening when you read it again and talk about the characters. At the end of the week, encourage your child to tell you the story, using the pictures to guide them
Websites to help learning phonics.
Phonics: How to pronounce pure sounds | Oxford Owl - YouTube
Jolly Phonics Letter Sounds (British English) - YouTube
https://www.youtube.com/watch?v=2mtn0leIe60&t=41s
Tricky words | Phase 2 Phonics | Phonics song - BBC Bitesize
Check out the blogs below to see what we've been doing in our classes!