Welcome to Year 5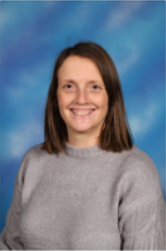 Miss Crook - Buddleia Class
Miss Wain - Allium Class
Mrs Laud - Allium Class

Mrs Bailey - Year 5 Teaching Assistant (Buddleia)
Mrs Davis - Year 5 Teaching Assistant (Allium)
Parent and Carer Meeting PDFs
Parent Carer Curriculum Meeting Y5 Allium.pdf
Parent Carer Curriculum Meeting Y5 Buddleia.pdf
A Very Warm Welcome to Year 5
Welcome back after our Febrary break. We hope you're all refreshed, rested and ready to learn!
This half term, our topic is
'How can small actions add up to make a big difference??'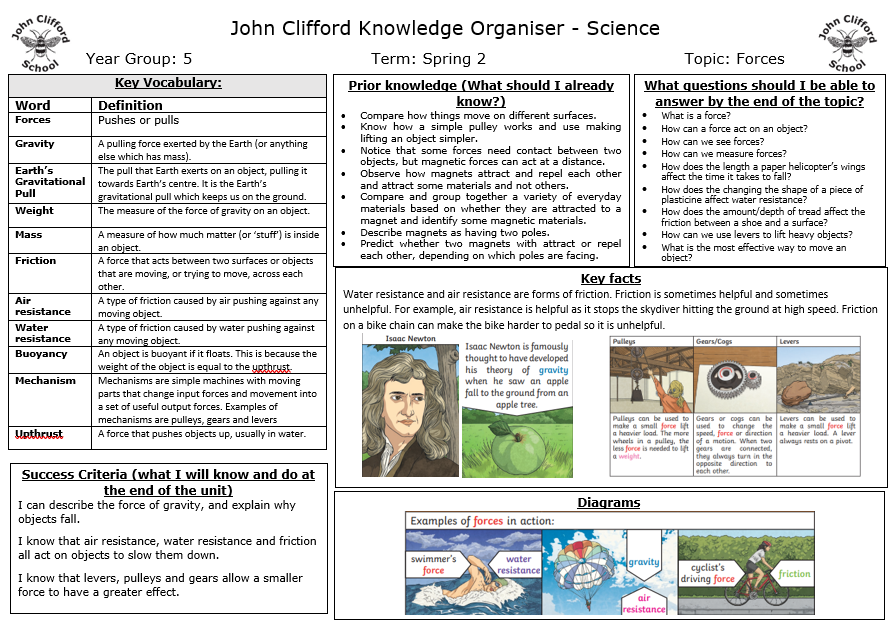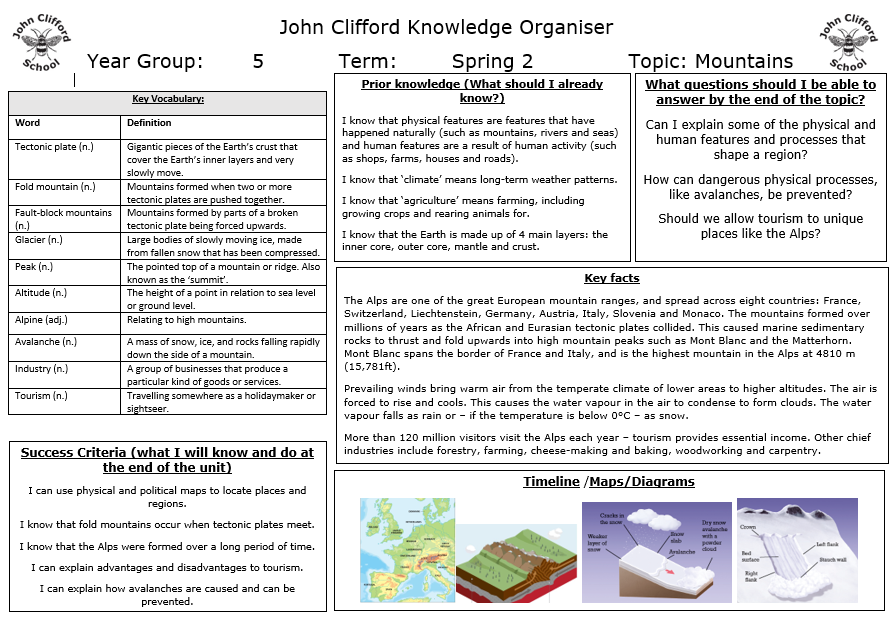 Our class novel this term:
A modern classic, Skellig is a life-affirming story about friendship and the power of kindness. At once deep, humorous and haunting, Almond's Carnegie Medal winning tale is filled with huge emotions, quiet courage, abiding hope, and a fair bit of magic.
This half term, we will also be learning about:
ENGLISH - Suspense tales and persuasive writing
MATHS – Fractions, decimals and measurement
SCIENCE – Forces
COMPUTING - Selection in programming
GEOGRAPHY - Mountains
ART - Renaissance style and pencil techniques
RE – The importance of the Bible in Christianity
SPANISH – Body parts and activities
PSHE – Healthy lifestyles, sun safety and dealing with emergencies
MUSIC – Sountracks and soundscapes
OUTDOOR LEARNING – Working together
PE – Gymnastics and tag rugby
We will continue to ask the children to read three times a week at home and to practise their spelling weekly. These will be given each Friday and tested the following Friday. We also ask the children to maintain their times tables fluency by being active on TTRockstars. More details can be found below.
Key Dates for Spring 1
Thursday 2nd March

Children to come in PJs

World Book Day

14th - 18th March

Science Week

Friday 31st March

Last Day of Term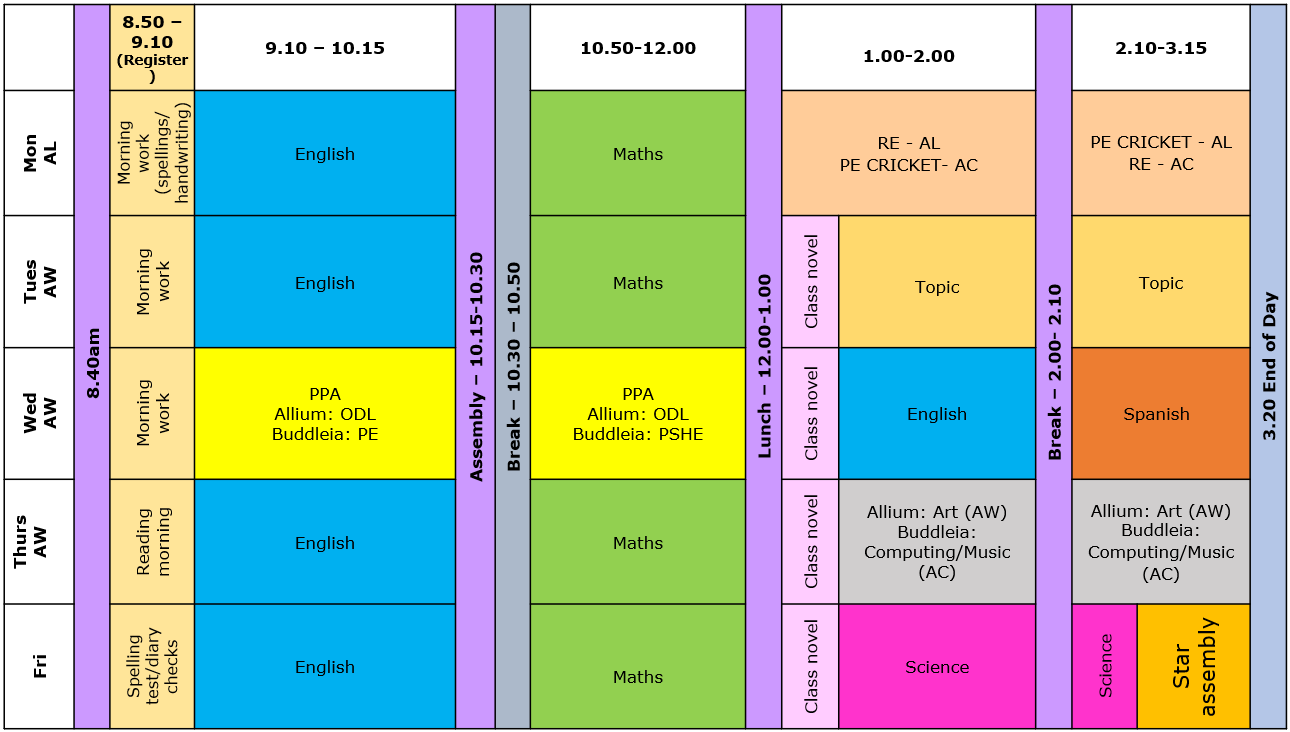 PE and Outdoor Learning
In the Spring term, PE takes place on Wednesday morning and Friday afternoon. PE kit consists of PLAIN black shorts or jogging bottoms, PLAIN white t-shirt, and trainers.
This year, children will need to come to school in their school uniform and bring their PE kit or outdoor learning kit to get changed into. Children should still bring wellies in a seperate bag incase they get muddy.
Please see the timetable for this half term below:
Week Commencing

20th February

27th February

6th March

13th March

20th March

27th March

Allium

Wednesday - ODL

Friday - PE

Wednesday - PE

Friday - PE

Wednesday - ODL

Friday - PE

Wednesday - PE

Friday - PE

Wednesday - ODL

Friday - PE

Wednesday - PE

Friday - PE

Buddleia

Wednesday - PE

Friday - PE

Wednesday - ODL

Friday - PE

Wednesday - PE

Friday - PE

Wednesday - ODL

Friday - PE

Wednesday - PE

Friday - PE

Wednesday - ODL

Friday - PE
Homework in Year 5
READING: Each week, we ask that all children read with somebody at home at least three times a week. This could be any adult or an older sibling or friend. Please sign their diary and add a comment. Every little bit of reading really does help children on the learning journey.
MATHS: A vital aspect of Maths is that the children have a secure recall of times tables so we ask that they spend some time each week on TT Rockstars practising these. We also have half-termly homework challenges to complete with children being rewarded for their efforts of going above and beyond by up-levelling to a bronze, silver or gold card!
SPELLING: We also ask that the children practise their weekly spellings which can be found below. We conduct a spelling quiz each week and these words form part of our English teaching for the week.

Check out our class blogs to see what

we've been doing in school!
Art 6.10.22

In Buddleia this week, we have been looking at British artist Lynette Yaidom Boakye's work. She is a portrait artiost who paints imaginary people in a variety of poses. She often creates images by using features of people she sees in magazines so this week we collected images and created imaginary people for our portraits.