What is the PE and Sports Premium?
The Sports Premium is designed to increase the level of skills children have in all areas of sport, to increase their level of fitness and also their enjoyment of sporting activities. The vision of the government is that: 'ALL pupils leaving primary school physically literate and with the knowledge, skills and motivation necessary to equip them for a healthy, active lifestyle and lifelong participation in physical activity and sport'.
John Clifford School receives funding each year to improve provision for PE and sport within the school. This money is from the Departments for Education, Health and Culture, Media and Sport and has been 'ring-fenced' which means it can only be spent on sport provision and not on any other areas in the school. We can use this money to:
Employ specialist P.E. teachers/coaches to work alongside teachers when teaching P.E.
Provide new or additional sports clubs
Pay for professional development
Pay for cover to release teachers for development
Run sports competitions
Buy materials and resources for P.E./sport
Since the Sports Premium funding began, we have provided the children with a range of different sporting opportunities, enhanced the PE curriculum and trained our school staff to deliver high quality sports lessons.
It is important to emphasise that the focus of spending must lead to long lasting impact against the vision (above) that will live on well beyond the Primary PE and Sport Premium funding. The continuation of the Sports Premium funding will enable us to sustain the impact of high quality sports provision in the following areas:
Teachers develop their subject knowledge in delivering sporting lessons through CPD training, allowing them to deliver a range of sports lessons across the full curriculum
Teachers develop their subject knowledge through support from specialist coaches
Teachers develop their expertise in games through the purchase of new equipment
Children leave school being able to swim the required 25m, following a carefully planned programme of swimming lessons in Year 3 & 6
Children in Years 1-6 have the opportunity to participate in a wide range of sporting clubs
Children have the opportunity to try new sports and sporting activities
School Games Mark Accreditation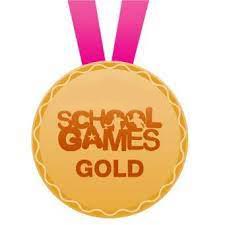 The School Games Mark is a government led awards scheme administered by the Youth Sport Trust, which rewards schools for a commitment to the development of competition across schools and into the community. We are proud tho be a 'Gold' school.
Evidence of the impact the funding is having in school
Please see the documents below evidencing the impact of the PE and Sports Premuim in school:
Physical Education in our curriculum
Please see our Physical Education curriculum page for more information on how we teach PE in school.
PE @ JC
Check out what we're up to in PE below!