Welcome to Year 1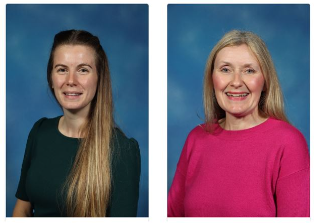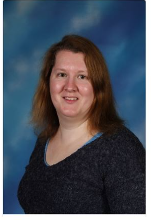 Mrs Julian - Honeysuckle Class
Mrs Keeling - Snapdragon Class
Miss King - KS1 Teaching Assistant


A Very Warm Welcome back to Year 1- Spring 2
Welcome to the start of Spring 2. Time is flying and we have another busy and fun filled half term ahead of us. We hope that you are all well rested and are ready for this action-packed half term! We have many learning opportunities planned for the next few weeks, as we launch into our new topic 'Where Does My Food Come From?"
During English lessons, we will be focussing on the traditional story; 'The Little Red Hen'. The children will be creating story maps, orally performing the story, writing their own version of the story using sentences containing speech, including speech marks and exclamation marks as well as writing instructions in the form of a recipe, on how to make bread (which they will be making during DT with Mrs Radley). We will be sending home copies of story maps that we have created as a whole class to support with learning the structure of the story. This will help us to make simple changes to the story and discuss to make it our own. We will be using the text The Little Red Hen along with the texts below, to promote discussion about food and will be using them to inspire writing in other areas of the curriculum ie: Science, Geography and DT.
Over the half term, we will also be learning:
MATHS – Number- Place Value (within 50). Measure: Compare length and height. Measure lengths. Measurement:Weight and Volume- Introduce weight and mass. Measure mass. Compare mass. Measurement: Weight and Mass- Introduce capacity and Volume. Measure capacity. Compare capacity. Number: Place Value (within 50)- consolidation and assessment
SCIENCE –Plants: Plants outside, The Parts of a Plant, From Seed to Plant
SCIENCE- Seasonal Changes: How day length varies.
COMPUTING – Grouping Data.
RE – Special Books.
DT - Plan, design and evaluate.
PSHE – Marvellous Me, Feelings, Things I Like, Uncomfortable Feelings, Changes, Speak Up!

Geography-

Where in the world does our food come from? What can we buy on the high street? How does our food get to us? What animals are reared on a farm? What plants grow on a farm? Can we create a Great British Picnic?

Can we create a Great British food map?

PE - Cricket (Mon) and Gymnastics (alternate Thurs)
Music- Singing and listening.
Knowledge Organisers: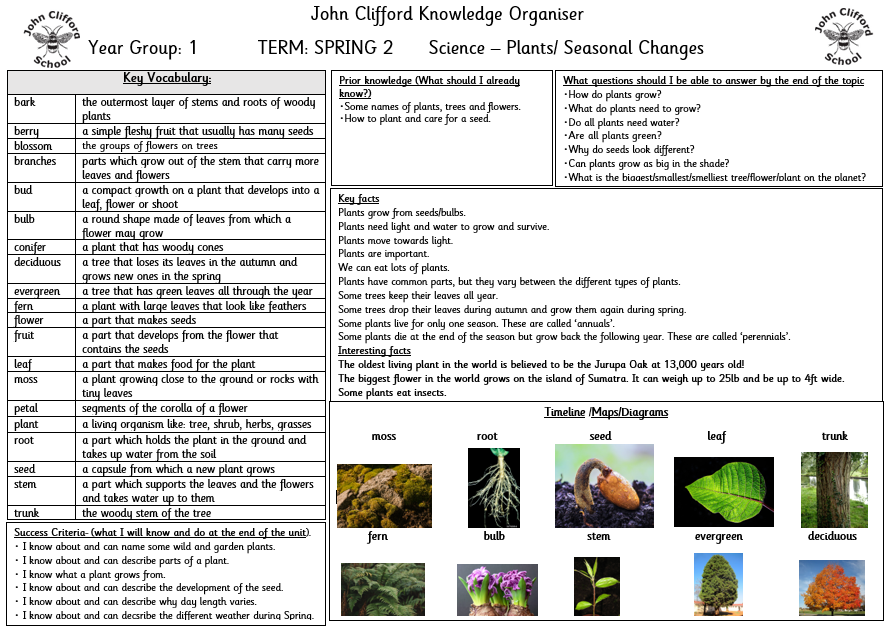 Key Dates for Spring 2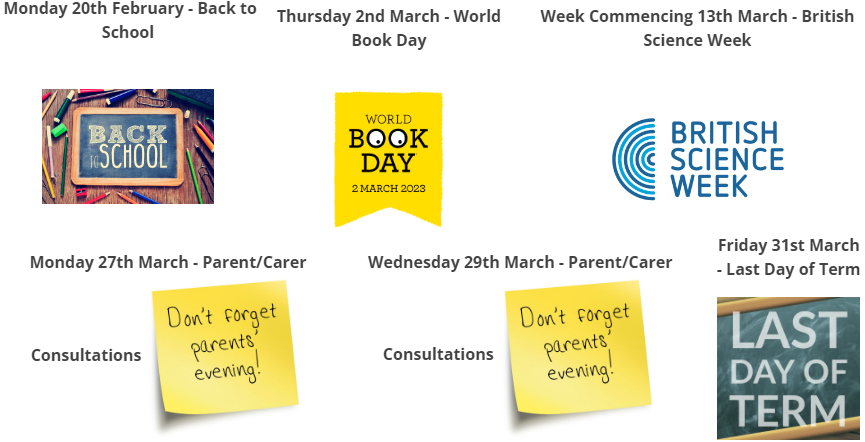 PE and Outdoor Learning
In the Spring 2, PE takes place every Monday and alternate Thursdays along with Outdoor Learning.
Like last term, children will need to come to school in their school uniform and bring their PE kit to get changed into. Some children are still arriving in their PE kits on PE days. To promote independence in dressing and for hygiene reasons please do not send your child to school in their PE kit.
PE kit consists of a plain white t-shirt, black shorts, black jogging bottoms/leggings, trainers/black plimsols, jogging jacket.
The children will take part in Outdoor Learning every other week.
Please see the timetable for this half term below:

Homework in Year 1 - Take Care of My Work.
Reading - Each week, we ask that all children read with somebody at home at least three times a week. This could be any adult or an older sibling or friend. Please ensure that reading at home is recorded in the communication diary and signed by an adult. Every little bit of reading really does help children on the learning journey. Children who read at least three times a week will be 'levelled up' on our whole school Good to Be Gold system on a Friday.
Spelling - We send home spellings each Monday which are linked to the 'graphemes' and 'harder to read and spell words' that we will be teaching that week. We ask that you could spend some time reading and spelling these words at home. Feel free to send in any work you do at home to support with this as we love to celebrate this in the classroom!
Maths - Your child's login details for Numbots and TTRockstars is in their communication diary. Spending 5 mins each day on these applications each week will support your child to develop their number fluency.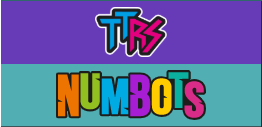 TTRockstars Login - https://play.ttrockstars.com/auth/school/student
Numbots Login - https://play.numbots.com/#/account/search-school
Our Classrooms
Take a look inside Snapdragon classroom...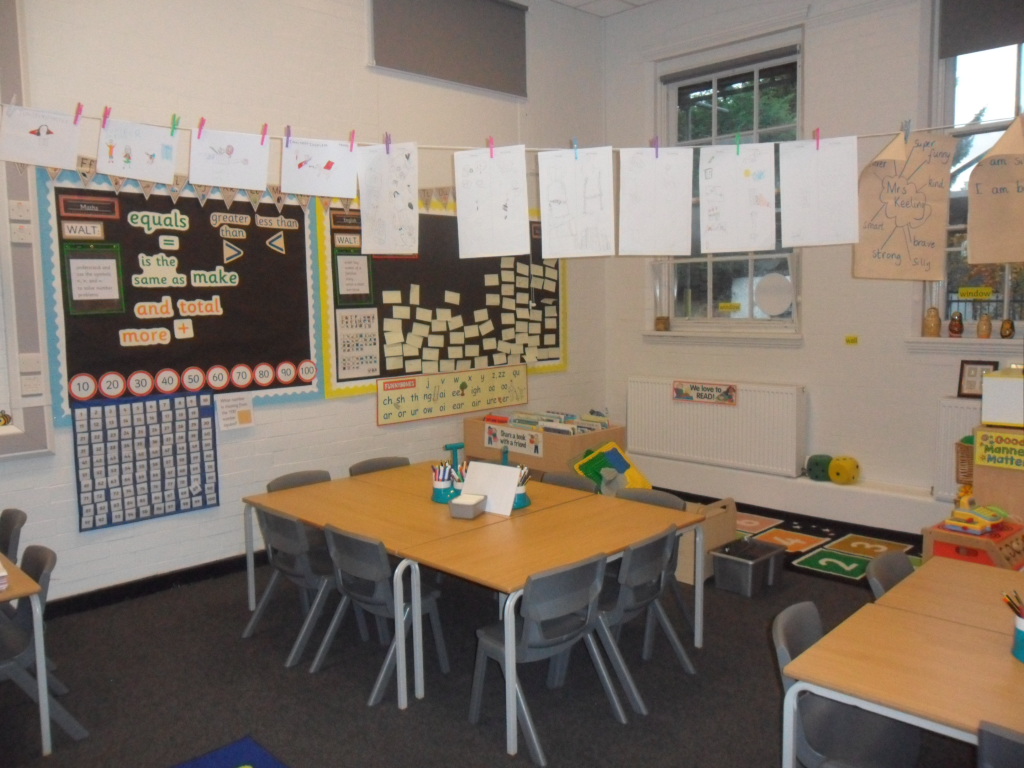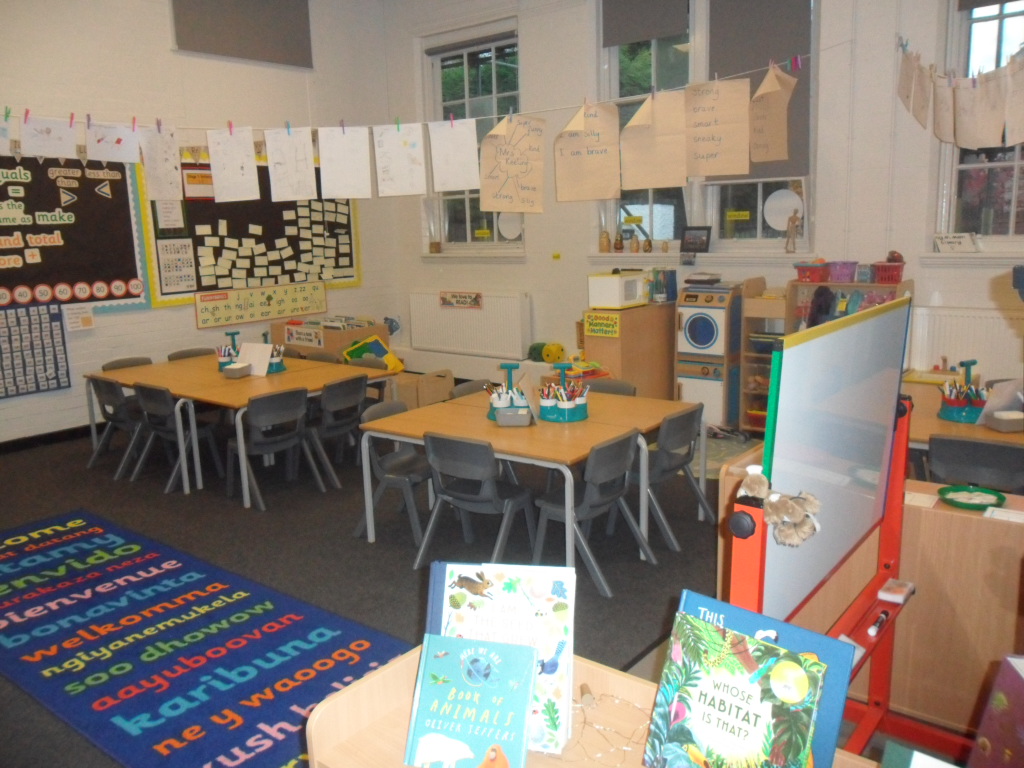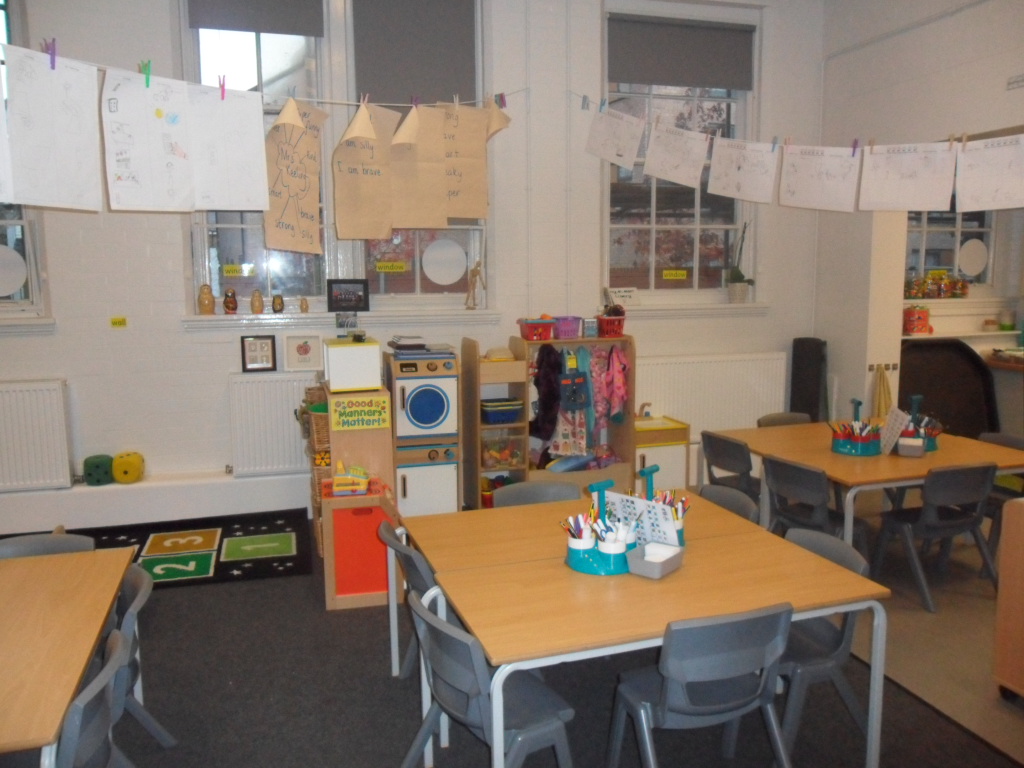 Take a look inside Honeysuckle classroom...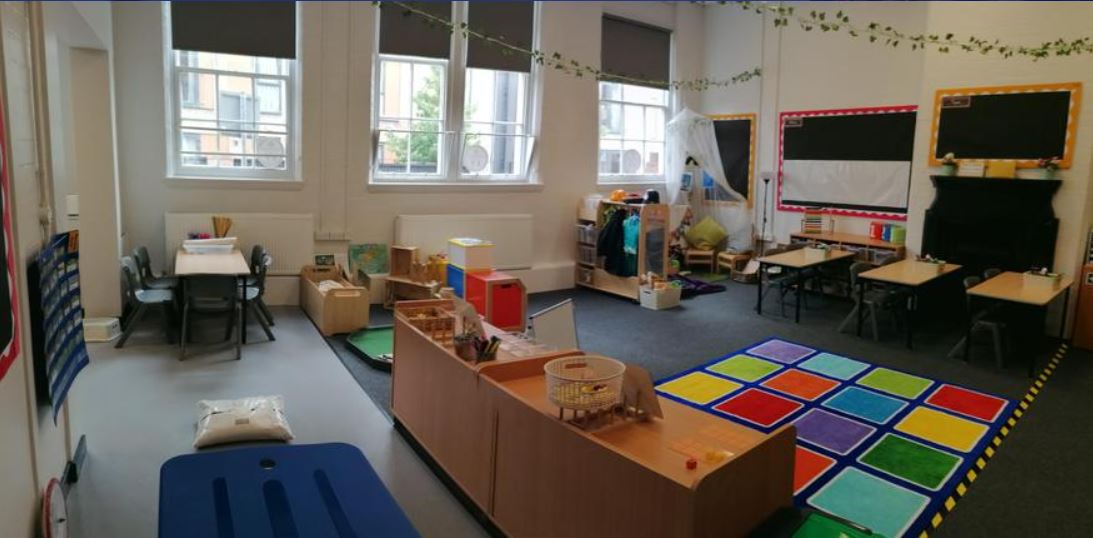 Check out the blogs below to see what we've been doing in our classes!
London is Burning!

This half term Snapdragon and Honeysuckle class have immersed themselves in finding out about the Great Fire of 1666. Stories and facts have been read and written about. Newspaper reports have been draughted and written. Tudor houses have been designed and this week saw the re-enactment of The Great Fire itself as the houses designed were raised to the ground along with St Paul's Cathedral! They banged their drums, gathered their belongings and ran! Grab all you can! All they can do is stand and watch as their homes are destroyed.....300 of them in total! It swept through the streets quickly ...