Welcome to the Friends of John Clifford
More info: This email address is being protected from spambots. You need JavaScript enabled to view it.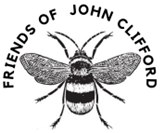 Upcoming events:
Next meeting: Monday 12th June at 6pm in the Staffroom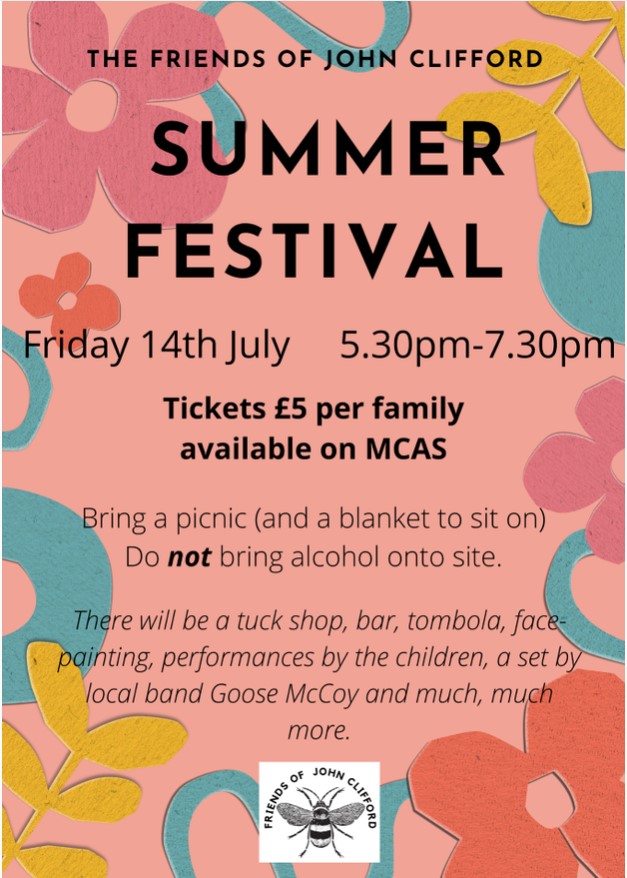 AGM: Monday 17th July
Who are the 'Friends of John Clifford'?
We are a group of John Clifford parents, carers and staff who work together for two main purposes:
1) to organise fundraising events to raise money for equipment and activities which will enrich the school experience for all John Clifford children from nursery through to Year 6
2) to encourage a sense of community within the school by organising events where families can come together and get to know each other
Who can be a 'Friend of John Clifford'?
Many people are familiar with the term Parent Teacher Association (PTA). The main difference between a PTA and a Friends group is that as well as teachers, parents, guardians or carers of children attending the school being committee members, a Friends group can admit any person over the age of 18 wishing to offer appropriate support or help.
If you have a child/children attending John Clifford School then you are automatically a 'Friend of John Clifford'. You don't need to know someone on the committee, send an application form or be voted on - you are welcome to come to our meetings and support our events.
If you are a member of the community that would like to get involved then please email the Friends of John Clifford with your contact details. The email address is This email address is being protected from spambots. You need JavaScript enabled to view it.
How do I get involved?
There are three main ways that you can support us.
Firstly, we urgently need more committee members to help us organise events and shape the way that we spend the fund we raise. This would involve attending the monthly meetings and help to run our events. We understand that everyone has busy lives and so we don't expect everyone to be able to attend every meeting so don't let that put you off.
You can join in at any time of the year and no matter which school year your child/children are in. From nursery to year 6, all parents and carers are welcome!
Secondly, if you don't have the time for a more regular commitment then you can sign-up just to support at an event by running a stall or taking entry money.
Finally, if you don't have the time to commit to the meetings and attending events then simply follow us on Facebook, like and share our events and, if you can, make a donation to our Just Giving page.
When do you meet?
The FOJC normally meet once or twice each half term and meetings typically last about an hour. Our next meeting will be on Monday 12th June at 6pm in the Staffroom.
How do I get in touch?
Please email any queries to This email address is being protected from spambots. You need JavaScript enabled to view it. and a member of the committee will respond.
You can also message us through our Facebook page, search for Friends of John Clifford School.
Introducing the The Friends of John Clifford Committee
Fundraising- can YOU help raise more money?
Gift Aid
Gift Aid allows UK charities to claim back the basic rate tax already paid on donations by the donor.
This means we can claim back from the government on your behalf 25p for every £1 donated, boosting the value of the donation by a quarter.
What do we need YOU to do?
Our JC Superheroes did awesomely well raising over £7,000 last summer but now, without anyone having to get on their bike, hop, bounce, bake read (or do any of their many crazy challenges) again, we have the chance to raise yet more money.
Thank you for your ongoing support.