"Intelligence and skills can only function at the peak of their capacity
when the body is healthy and strong"
‒ John F. Kennedy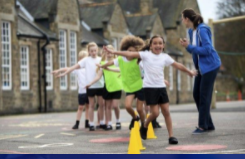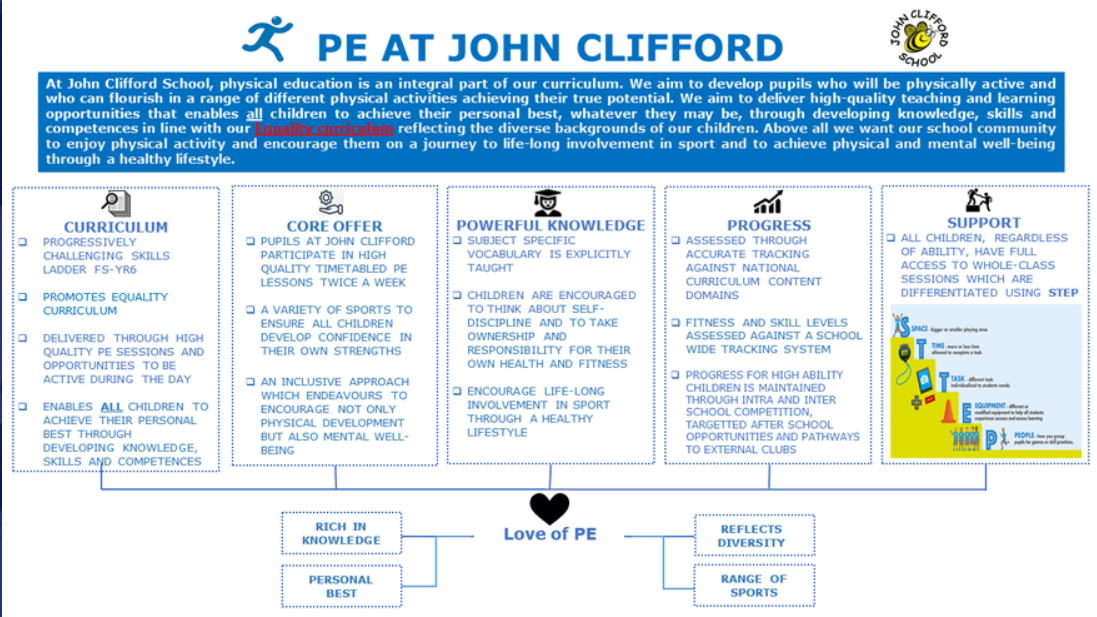 Why do we teach Physical Education?
At John Clifford School, physical education is an integral part of our curriculum. We aim to develop pupils who will be physically active and who can flourish in a range of different physical activities achieving their true potential. We aim to deliver high-quality teaching and learning opportunities that enables all children to achieve their personal best, whatever they may be, through developing knowledge, skills and competences in line with our Equality curriculum reflecting the diverse backgrounds of our children.
We consider swimming to be an essential life skill and we believe all children should have the opportunity to learn how to swim at least 25m and be taught how to stay safe in and around water.
When we participate in events, we encourage the children to transfer our John Clifford Promises to the sporting activities, ensuring they do their best and display good sporting behaviour linked to the Broxtowe Active Schools values of honesty, teamwork, respect, self-belief, passion and determination.
We aim for all children to be physically active for sustained periods of time during and after school and for them to be able to make informed decisions to help them lead healthy and active lives. Above all we want our school community to enjoy physical activity and encourage them on a journey to life-long involvement in sport and to achieve physical and mental well-being through a healthy lifestyle.
How do we teach Physical Education?
Pupils at John Clifford participate in high quality timetabled PE lessons and sporting activities twice a week. Our PE programme incorporates a variety of sports to ensure all children develop the confidence, tolerance and the appreciation of their own and others' strengths and weaknesses. We provide opportunities for all children to engage in extra-curricular activities during and after school, in addition to competitive sporting events. This is an inclusive approach which endeavours to encourage not only physical development but also well-being.
This is achieved by:
Using and adapting iMoves planning and resources to ensure lessons across the year groups show consistency and skills progression.
Delivering a Sports Academy each term in which a year group has the opportunity to work in smaller units, trying out a range of different sports and having the chance to prepare for inter-school competitions. After trying out the sports, there is some element of choice as the children can rank the sports and for the next half term, they can develop their skills in their chosen activity. Sports available in the sports academy include tri-golf, handball, table Tennis athletics and rounders.
Participating in a variety of competitive sports as part of BAS (Broxtowe Active Schools) and the South Broxtowe Sports Association. John Clifford School also attends sports festivals for Key Stage 1 and 2. We have a very successful school netball and football team and have development squads to bring players through to represent the school.
Participating in running with all classes taking part in the Daily Mile to help students meet the 30 minutes of daily physical activity at school.
Attending swimming lessons at the new Olympic sized swimming pool in YR4, YR5 and top-up in YR6 to improve the % of children achieving National Curriculum expectations.
Providing children with opportunities to participate in extra-curricular activities that are inclusive, enjoyable and increase children's physical activity (these have included FS multi-skills club, cheerleading, dance, football (boys and girls), croquet, netball, table-tennis, basketball yoga and Drumba.
Employing experts in different sports (cricket, handball, tennis, skipping, table tennis and basketball) to learn from their skills, work ethic and demonstrations of good practice. This has included Chance to Shine Cricket coaching, tennis coaching from Nottingham Tennis Centre, Notts County a visit from the basketball player, Paul Sturgess the tallest man in the UK (7ft 7) who talked about his sport but also about embracing your differences and making most of your talents.
Celebrating 'Sports Week' annually to educate and promote a healthy lifestyle and physical activity. Children engage in different workshops, activities and sports, and includes a FS, KS1 and KS2 Sports day with a mix of traditional sporting events and round robin activities, however the focus during these events is participation.
Creating opportunities for children from FS to YR6 to participate in physical activity during morning and lunchtime breaks on our two well-equipped school yards, stocked with resources. Staff and Playground Leaders (trained pupils from Year 5) are on duty to co-ordinate a range of active playground games. Lunchtime sports clubs are also on offer to pupils. These can include football, table tennis, rugby, yoga and basketball.
Encouraging a healthy lifestyle through the Notts County Move and Learn project and participation in the Restart a Heart initiative across the school.
Creating enthusiasm for supporting charities through sporting events, including raising over £2000 for British Heart Foundation with a Jump Rope for Heart event and investment in skipping workshops and the purchase of skipping ropes and playtime equipment to keep the children exercising their hearts during the school day
Creating opportunities for Inter-hive competitions that take place at the sports day and each half term as part of PE lessons. The points gained throughout the competitions are added to the hive totals.
Providing Yr4 and YR6 with an annual residential trip in which they undertake a series of physical and challenging activities.
Developing links with local sporting clubs to provide pathways for our talented pupils to club and county representation and to create opportunities for children to try a range of different activities. These have included the local Park Run (every half term the staff, parents and children take part in the 5km run), Robin Hood Fun Run, Notts County Show Racism the Red Card Event, Highfields Lawn Croquet Club, Sycamore Table Tennis Club, Nottingham Tennis Centre, Beeston Hockey Club, Nottingham University, Bramcote Swimming Club, Pearson Centre, Nottingham Casuals Rugby club and Chilwell Olympia.
Encouraging physical literacy by using activity in other lessons, including 'Go noodle', Active Maths, taking learning outdoors, Forest Schools, yoga, music and singing.
Assessments are being phased in across the school at the end of each unit (dance, gymnastics, games (invasion and net/wall) and OAA) to assess the skill level of each child using the Point in Time Assessments linked to the iMoves planning. This, alongside the other assessments (see below) will provide a clear picture of the where the child is, on their learning journey, and what support they will need moving forward.
Completing a 'running' and 'fundamentals' assessment each year, to monitor fitness levels across the whole school, helping to identify both the gifted and talented and the least active pupils, but also the impact of the PE and Sports Premium Investment. Last year, girls identified as the least active were invited to the 'Only Girls Allowed' lunchtime club to encourage them to be more active. 90% of girls said they enjoyed physical activity more after participating in the club.
Providing EYFS children with opportunities to be active every day in the outdoor area, by having weekly sessions in the Forest School and timetabled PE sessions in the hall to develop their skills and levels of fitness.
Encouraging parents and families to be involved in Physical Education, physical activity and school sport through sports days and half termly Park Runs and skipping opportunities at the beginning and the end of the school day.
Providing opportunities for parents and the local community to spectate in competitive events through the Sport Partnership
What are the outcomes for our children?
Our curriculum aims to improve the wellbeing and fitness of all children at John Clifford School, not only through the sporting skills taught, but through the underpinning values and disciplines PE promotes.
PE sessions have a clear structure and are progressive. Skills are developed from FS to YR6 and the use of correct vocabulary, linked to the curriculum is encouraged.
Within our lessons, children are taught about self-discipline and that to be successful you need to take ownership and responsibility for your own health and fitness.
Our impact is therefore to motivate children to utilise these underpinning skills in an independent and effective way in order to live happy and healthy lives.
Evidence of the impact of our PE curriculum can be seen through our PE and Sports Premium documents, the PE Action Plan, Governors' reports, and the Junior Leadership Health and Well-being committee group meetings minutes.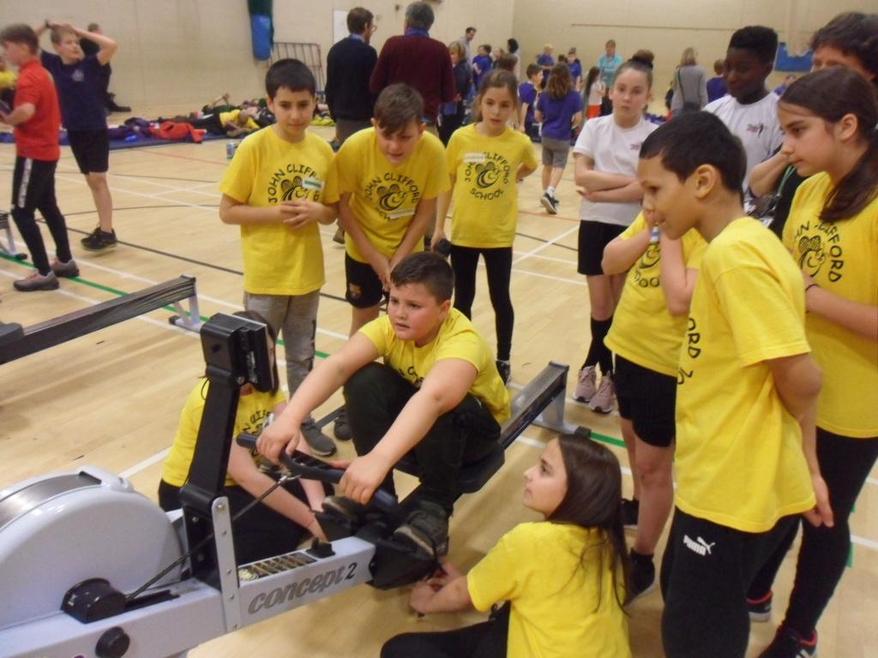 On Thursday, when the magnificent 24 left JC for the tram, to take part in the Indoor Rowing Competition at George Spencer School, little did they know what an AMAZING afternoon lay in store. Many have heard of Super Saturday, but for this team it was a Thrilling Thursday. Each child took part in two team rowing challenges and there was also the opportunity to do the individual rowing challenge.
We did quite well in the individual event and even though there were 16 teams taking part, Raed won the YR3 boys event with William taking the YR4 title, Nyle the YR5 title and Xhesika the YR6 girl's title!! Mason also won the Broxtowe Spirit of the Games Certificate for determination.
Last year, we finished in an amazing second place having been beaten by Awsworth School, however, I am very happy to announce that this year we went one better and we won and are now the BROXTOWE CHAMPION INDOOR ROWING TEAM!

The National Curriculum for Physical Education