"Share our similarities, celebrate our differences."
‒ M. Scott Peck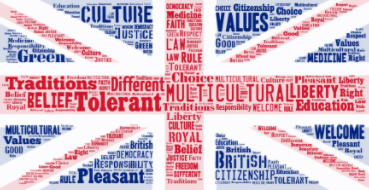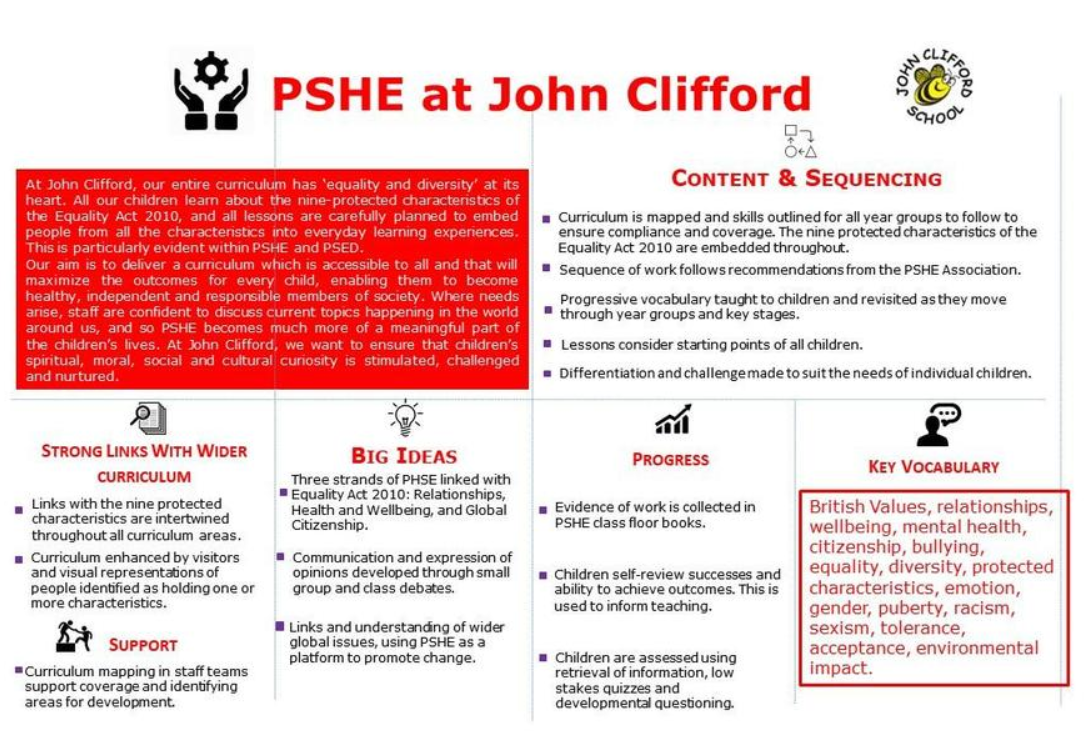 Why do we teach PSHE?
At John Clifford, our entire curriculum has 'equality and diversity' at its heart. All our children learn about the nine-protected characteristics of the Equality Act 2010, and all lessons are carefully planned to embed people from all the characteristics into everyday learning experiences. This is particularly evident within PSHE and PSED.
Our aim is to deliver a curriculum which is accessible to all and that will maximise the outcomes for every child, enabling them to become healthy, independent and responsible members of society. All children are taught PSHE through weekly lessons and assemblies. Where needs arise, staff are confident to discuss current topics happening in the world around us, and so PSHE becomes much more of a meaningful part of the children's lives. At John Clifford, we want to ensure that children's spiritual, moral, social and cultural curiosity is stimulated, challenged and nurtured.
PSHE is taught through a spiral curriculum where each year group revisits and builds upon their previous learning. Each year, children learn aspects of Health and Wellbeing, Relationships and Living in the Wider World.
How do we teach PSHE?
All staff have an interest in the wellbeing and safety of all our pupils and believe that PSHE underpins our school values and vision, and that it is a vital subject for developing resilient pupils for life and work in modern life Britain. British Values and the Equality Act 2010 form a large part of the PSHE work taking place, and alongside the Junior Leadership Team and the subcommittees within it, all children have the opportunity to take part in wider experiences which support in decision making and the development of our school and local environment.
PSHE is taught discretely to all children in the form of a one-hour session each week, through daily assemblies, and when issues arise in the classroom or in the wider world. Our Equality Curriculum is taught throughout all lessons too. Our nurture groups provide additional support and help to foster good self-esteem, confidence and positive behaviour choices. This in turn helps to raise aspirations for all children.
A broad and deep curriculum is offered to all the children, with lessons tailored towards the needs of all individuals. Planning focuses of core PSHE strands, and content is age appropriate. Additional opportunities to support in PSHE include vital emergency lifesaving skills training, bikeability, water safety training and fire safety training, all of which are taught by visitors to enhance our offering of PSHE.
Children are encouraged to reflect on their thoughts and take part in discussions and debates. A range of informal assessments are used to identify how all children are progressing in PSHE lessons, including low stakes quizzes, discussions and mini assessments. Children are tracked in their development of PSHE using progression statements.
What are the outcomes for our children?
Our PSHE Curriculum is high quality, well thought out and is planned to demonstrate progression. If children are keeping up with the curriculum, they are deemed to be making good or better progress. In addition, we measure the impact of our curriculum through the following methods:
- A reflection on standards achieved against the planned outcomes;
- A celebration of learning for each term which demonstrates progression across the school;
- Pupil discussions about their learning and understanding of key concepts.

The National Curriculum for PSHE