"Geography is the subject which holds the key to our future."
‒ Michael Palin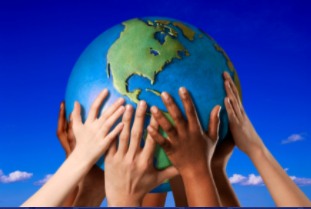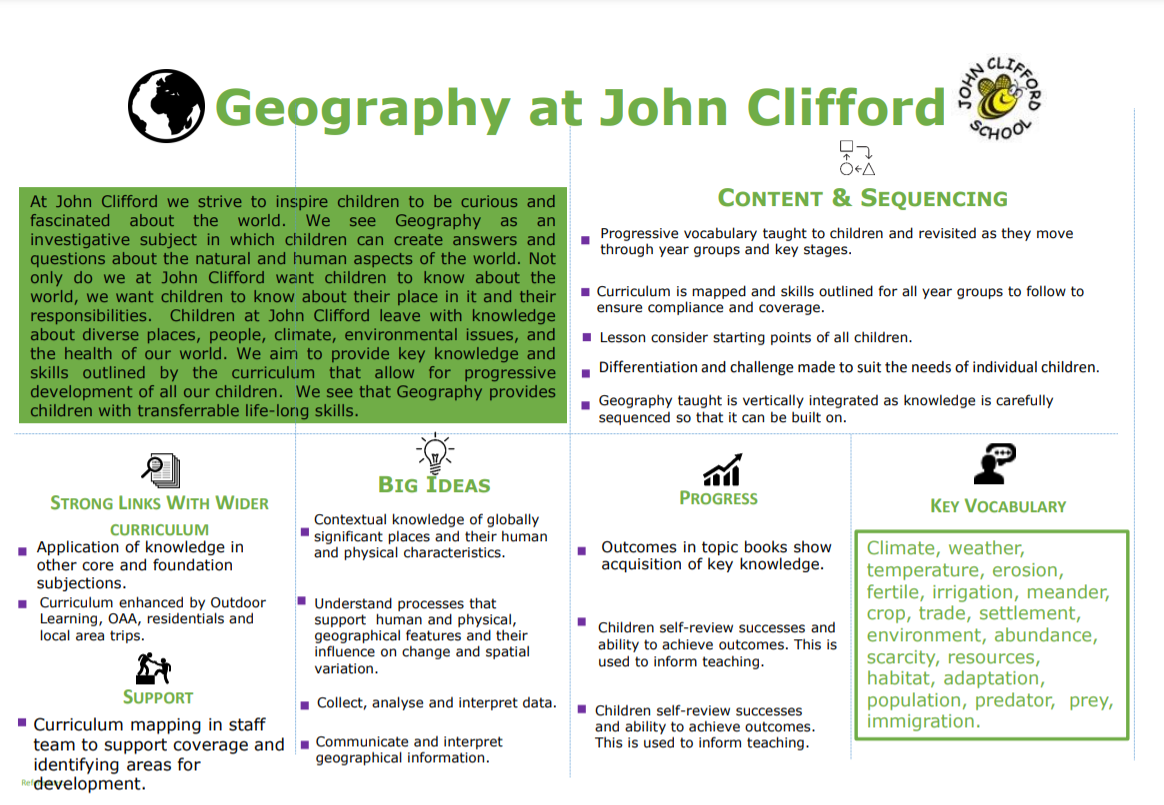 Why do we teach Geography?
At John Clifford we strive to inspire children to be curious and fascinated about the world. We see Geography as an investigative subject in which children can create answers and questions about the natural and human aspects of the world. Not only do we at John Clifford want children to know about the world, we want children to know about their place in it and their responsibilities. Children at John Clifford leave with knowledge about diverse places, people, climate, environmental issues, and the health of our world. We aim to provide key knowledge and skills outlined by the curriculum that allow for progressive development of all our children. We see that Geography provides children with transferrable life-long skills and therefore aim to build strong cross-curricular links so that children can use them in different contexts. Geography aims to build the children's spiritual, moral, social and cultural development. Through regular outdoor learning and OAA activities they will get a hands-on experience of working with nature and developing respect for the environment. Children develop key geographical skills such as, map reading, collecting data and fieldwork.
How do we teach Geography?
Throughout the school, Geography is taught in blocks to ensure that children gain depth in their learning. Teachers intentionally build strong cross-curricular links to subjects such as History and English to ensure that the children have bountiful rich learning outcomes. Geography lessons consider the starting points of all children and are differentiated accordingly so that all learning needs are taken into consideration. Children at John Clifford will experience a wide range of opportunity to apply their learning or to acquire knowledge in Geography in different ways. Children take part in local walks, residentials, Outdoor Learning and Outdoor Adventurous Activity (OAA). Through Outdoor Learning and OAA children practise developing the following skills:
Map work
Orienteering
Using a compass
Human Geography -
Sustainability and environmental issues
The Geography curriculum at John Clifford places specific emphasis on progression. As it is underpinned by the National curriculum (2014), the Geography curriculum is taught in a cyclical way in which skills are intentionally repeated and built upon in subsequent years enabling the children to make links to previous knowledge gained and apply it to new knowledge. The recent curriculum mapping of Geography highlights the revisiting of key skills children learn in Geography. In addition to this, children learn key concepts such as, climate, temperature, resources, crop, environment, settlement and adaptation. These concepts are learnt across the school and are repeated so that as the children become more familiar with the key themes in different contexts, they can critically respond to them and make comparisons between old and new learning. Additionally, as learning opportunities at John Clifford are often Outdoor Learning activities the children can apply and respond in active and engaging ways which support their long-term memory. As lessons consider all the children's starting points, teachers use this knowledge to differentiate for identified children accordingly, whether that be by outcome, resources, support and scaffolding. Teachers use various strategies to support learners to ensure that they can have learning experiences that suit their needs.
Teachers take extra care to consider the various learning needs of the children that they teach. As the Geography curriculum is taught in both a cross-curricular and active approach, children are able to achieve broad learning outcomes. As well as this, as teachers know the starting points of all of their children, they are able to differentiate accordingly. Teachers use their knowledge of the abilities and strengths of their children and plan activities that take this into consideration.
What are the outcomes for our children?
At John Clifford, the Geography curriculum has many strengths. Children have a sense of responsibility and strong awareness of their local area and their place in it. They also have a great respect for the local history that surrounds the school and Beeston. As John Clifford is very multicultural, opportunities for the children to learn about the birthplaces and nationalities of their classmates are held in high importance which boosts their view of themselves as global citizen and their sense of community. Children benefit from educational visits aimed at building their geographical knowledge. Outdoor learning provides opportunity for children to put their classroom-based learning into practise and to also have hands-on experiences. Children benefit from extra-curricular events such as World Culture Day in which children show an appreciation for different nationalities and places across the world.
Outcomes found in books both Topic and English books show the acquisition of the key knowledge that the children have gained. Books are used to check the quality of the outcomes and inform future targets. At John Clifford, children are part of this process too, reviewing their own successes and ability to achieve outcomes at the end of every lesson. The teacher can therefore use this to inform subsequent teaching.
Teachers are given opportunity to share what currently works well in their teaching, their targets and aims and share common areas for development Through the use recent curriculum mapping activities, the professional development of staff at John Clifford in their teaching of Geography has been paramount. Enabling staff and leaders to look closely at the subject. During these curriculum mapping sessions, areas of development were highlighted and addressed. Leading to whole staff team discussions and changes to the curriculum. At John Clifford, teachers work collectively to share their expertise and to tackle areas for development.

The National Curriculum for Geography