"Whether you want to uncover the secrets of the universe, or you want to persue a career in the 21st century, basic computer programming is an essential skill to learn."
‒ Stephen Hawking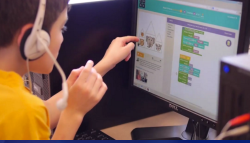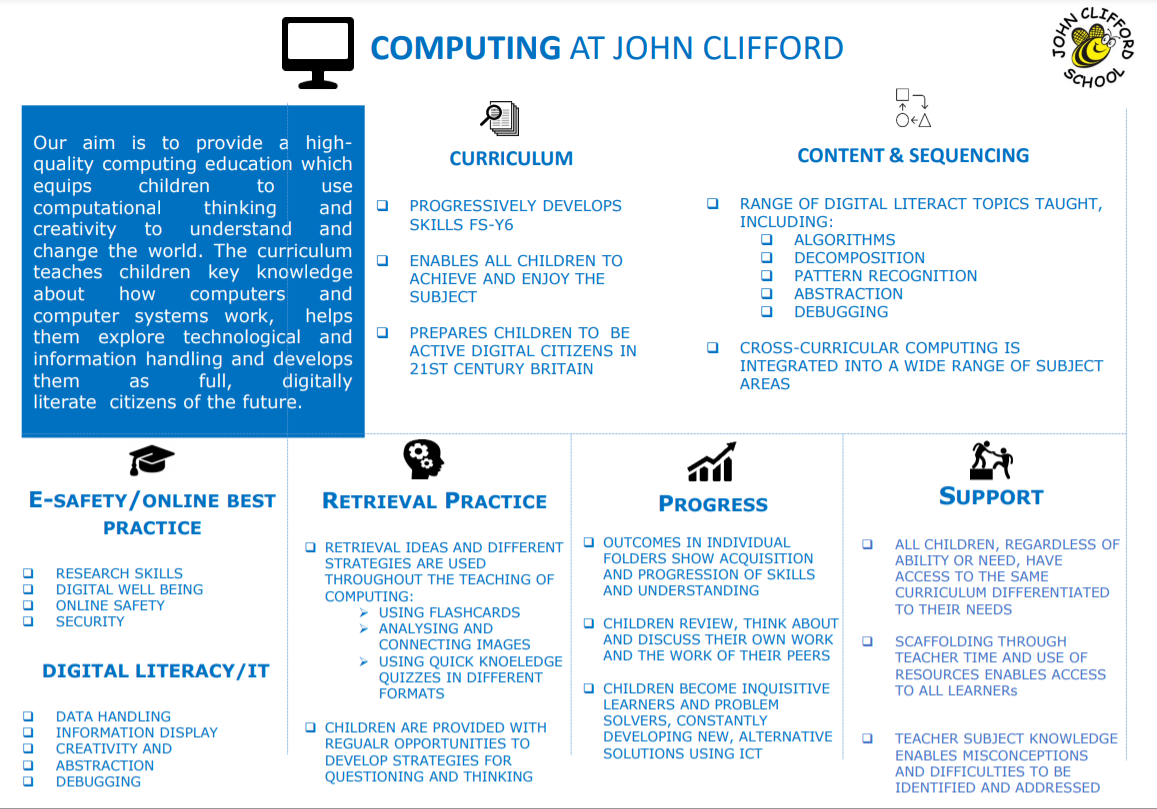 Why do we teach Computing?
At John Clifford School, we aim for all children to be responsible, competent, confident and creative users of information and communication technology.
In line with the National Curriculum for Computing, we aim to ensure that all pupils:
- can understand and apply the fundamental principles and concepts of computer science, including logic, algorithms and data representation
- can analyse problems in computational terms, and have repeated practical experience of writing computer programs in order to solve such problems
- can evaluate and apply information technology, including new or unfamiliar technologies, analytically to solve problems
Computing also ensures that pupils become digitally literate – able to use, and express themselves and develop their ideas through, information and communication technology – at a level suitable for the future workplace and as active participants in a digital world. Our children are taught how to make positive choices when accessing the internet and understand the key concepts of e-safety and best online practice.
How do we teach Computing?
At John Clifford School implementation of the Computing curriculum is in line with 2014 Primary National Curriculum requirements for KS1 and KS2 and the Foundation Stage Curriculum in England. This provides a broad framework and outlines the knowledge and skills taught in each key stage.
Computing teaching at John Clifford will deliver the requirements of the National Curriculum through half-termly units. Teacher's plans highlight the knowledge, skills and vocabulary for each year group and is progressive from year to year. Our Computing teaching progression is broken down into three strands that make up the computing curriculum. These are Computer Science, Information Technology and Digital Literacy. Computer Science underlines the knowledge and skills relating to programming, coding, algorithms and computational thinking. Information Technology underlines the knowledge and skills relating to communication, multimedia and data representation and handling. Digital Literacy underlines the knowledge and skills relating to online safety and technology.
What are the outcomes for our children?
Our Computing Curriculum is planned to demonstrate progression and build on and embed current skills. We focus on progression of knowledge and skills in the different computational components and like other subjects discrete vocabulary progression is considered an important area of development.
If children are keeping up with the curriculum, they are deemed to be making good or better progress.
We measure the impact of our curriculum through the following methods:
Work and planning scrutinys, from class/staff folders on server.
Pupil discussions and interviewing the pupils about their learning.
Learning walks and staff feedback
Governor monitoring with our subject computing link governor.
Photo evidence and images of the pupil's practical learning.

The National Curriculum for Computing